Comprises of multiple categories of Denmark websites with mentions of its business, travel, culture, health, education and lots more.
Site Listings

previous

«

1

»

next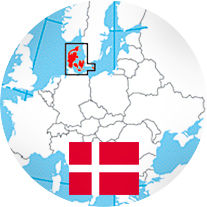 Denmark is a Nordic country located in northern Europe and one of the Scandinavian countries.
Copenhagen is the capital city of Denmark and also its largest city.

Denmark's currency is known as Krone.

The regions of Denmark comprises of Hovedstaden (Capital Region of Denmark), Midtjylland (Central Denmark Region), Nordjylland (North Denmark Region) and Sjælland (Region Zealand).