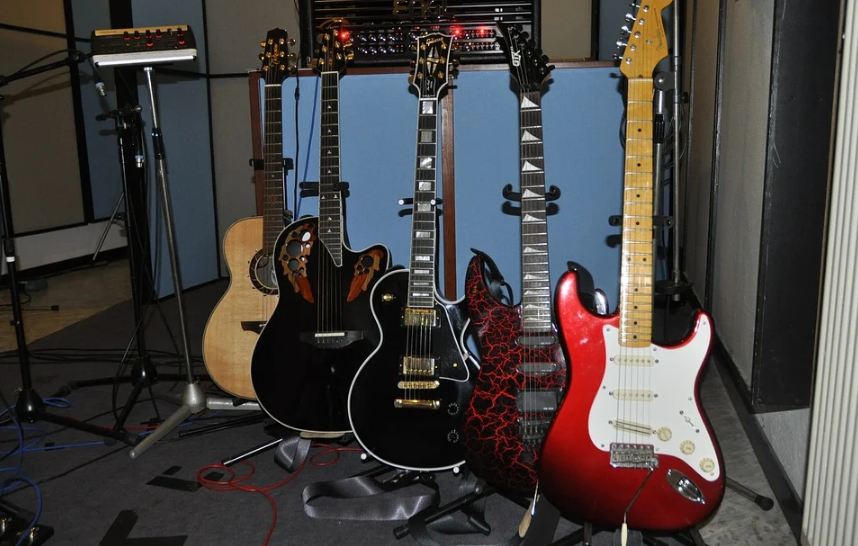 Having your guitar nicely snuggled in a beautiful case is not enough for your guitar. You have to keep your guitar somewhere during the rehearsals or during a performance when you are not playing it. In other words, you need a guitar stand.
Guitar stands come in a variety of shapes, sizes, and prices. Let us take a look at some of them so that it helps you to decide which one to buy for your electric guitar or your acoustic or your bass guitar.
Not all guitar stands to convey the conventional idea of a stand. Many of them can accommodate more than one guitar. Actually, guitar stands have evolved into something very different from what they originally looked like, that is when a guitar stand was simply a stand.
The old idea of a stand is still very much there. But newer features have been incorporated into them. Apart from this, the various makers have regularly come up with newer and innovative designs to cater to your needs.
The available versions of guitar shaft stands are foldable and the available models can accommodate up to six guitars. They are usually three-legged. But you can get a four-legged one too if you want to be surer about the stability despite the fact that the three-legged ones have been doing their rounds for a long time. These stands can be either lightweight or heavy-duty.
Usually, they are made of steel tubing, and they may be chrome-plated or covered with velveteen rubber padding that does not harm the finish of your guitar. You can hang your guitar from these stands. Some of these stands also come with a yoke that holds your guitar from the headstock.
The yokes are obviously covered with some good cushioning so as not to harm your guitar. There are also some models where the yoke snaps close around the headstock. All these yoke models are designed with care so that they do not interfere with the guitar strings. Some such yoke models also have another yoke on the lower part of the shaft that cradles as well as lends extra support to the guitar.
The shafts are adjustable to suit the height of a guitar, and they can be locked easily and securely after the adjustment is made. To increase the stability of the shaft type stands, some models have their shafts angled.
Moreover, in all the shaft stands, the legs lock after they are opened. Some legs are angled in a manner so that the center of gravity is lowered. These stands are normally priced between 12 and 60.
Then there are the hangers. They are small and save you the bother of lugging a normal stand. These consist of a mounting base with screw holes and a front open yoke that pivots in some models. They can be mounted on any surface though some models specify surfaces. A few are foldable. Another few can be mounted on amplifiers.
A further few models have the provision of getting their base parts slipped under the top handle of most amplifier models and then getting them fixed with the screws provided. The price of hangers ranges between just over 12 and nearly 17.
The A-frame stands are low stands that cradle the guitar and provide support with their apex. They are foldable. The guitar tracks are also good.
You can stand your guitar on these racks. These racks usually come with provisions of standing more than one guitar. A-frames cost between nearly 17and nearly 30, while the racks can between 35 and 40.
One innovative guitar stand is the Fender case stand where the guitar case opens up to act as a stand for multiple guitars. The price range varies from a little more than 250 to a little less than 200, depending on the number of guitars the case can accommodate.
Some of the makers of guitar stands are Fender, Catch-o-Matic, On-Stage Stands, Ultra, String Swing, Wallacher, Hamilton, Adam, and Stageline, to name a few.