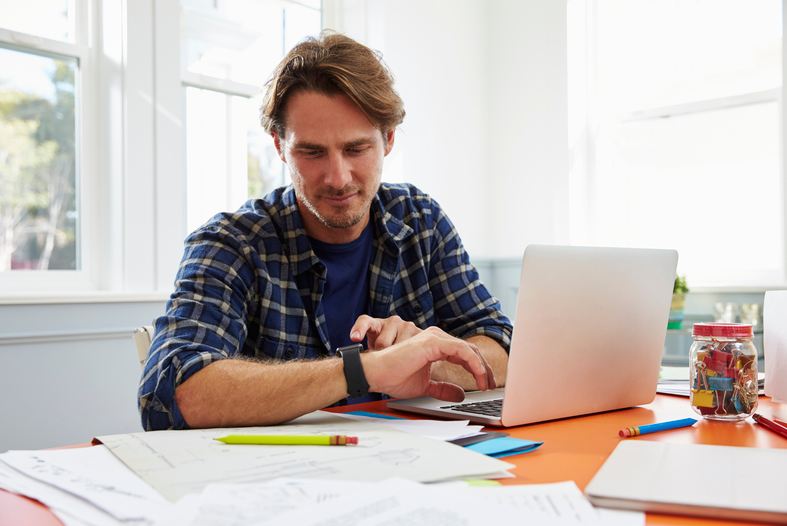 Having an office at home is more than just having a desk and computer. You can create a great space for getting your work done and also have a wonderful accent to your home.
A home office is easy to create with just a few steps to consider helping you design your plan.
You don't have to have a business to have an office, your office space can be the central location where no children are permitted, where you can download music, take time to read the news online, or even just catch up on the computer talking with old friends.
Make sure that you know what area you are going to make your home office. Consider the space that you have to work with and what you are going to do in that space. A home office can be a room of its own or it can be part of a room that has other functions.
Some ideas for locations to have your home office are guest bedrooms, dens, or even in a play or family room. You need to decide how much of this space is going to be used for your home office.
Check out locations of electrical outlets
Check the room out to locate where the electrical outlets and phone jacks are. Make sure that they are conveniently located for you and your equipment.
Decide where you are going to put the furniture at in the room and which part of the room you want to use for your space.
Try not to put all your computer plugs in one outlet, be sure to use a power surge cord or base where ever possible if you have many components to your home or business computer to prevent fires, or surges.
Think about the amount of storage space you are going to need. You will need a place for paper files, computer equipment, and accessories.
Decide what kinds of storage units you want to include in your area. If it is a room that you will be sharing with other members of the family, you may want to think about what kind of privacy you will need for your important documents.
Vertical storage is usually the best for small offices. The shelves instead of having the usual horizontal shape should be installed above the desk.
Also, as a rule of thumb, buying furniture that serve dual purpose can go a long way towards saving space in the home office.
Ensure an efficient workplace
Make sure that you design your workplace to be efficient. It has to be a good place for you to actually get your work done. You need to make sure that you have all the things that you need to work.
The items that you will need are letter-writing supplies, pens, staples, stapler, files, and books and so on. You should be able to have these items within your reach while you are working.
If you are short on space, then you may have to carefully choose your filing cabinets and other storage containers.
If you do not have a lot of room on the floor, then you may want to have your storage on the wall. You can also have stackable containers to make your room more functional.
There are plenty of new creations out there in the way of filing systems. Look around and you will be able to find the one that is best for your home office.
Once a year go through your files and papers and get rid of anything that you no longer need. These things can take a great deal of your attention and distract you.
You do not want papers stacking up and making clutter in your new home office. Keeping it neat and organized is essential to you and how much work you get done in your new space.
Make use of natural illumination
When setting up a desk for a home office, place it parallel to the windowpanes. This will enable you embrace natural light and also gives you reason to look away from the computer.
Of course, no one would like to build a corporate booth! The illumination from the window can help relaxing the eyes as it create a scene to be looked at every once in a while.
A wide range of things can cause distractions in the home. These things include gadget, sinks, etc.
Putting away these distractions from the home office will be a form of discipline. It will enable you fulfill the purpose of setting up the office in the first place.
To improve efficient use of the office at home, remove smartphones, tablets, and other gadgets.
Even if the devices are switched off, silent or in vibration, they have a way of taking attention and that is why removing them at your office time is crucial.
Sometimes, you will be working late hours and therefore, natural light will not be available which will require lamps. Having adequate light will help reduce headache and also reduce straining the eyes.
Houses have overhead lighting but this might be inadequate for an office thus making an additional lighting pertinent.
Lamps come in different designs and table lamps are usually best options for additional lighting in the home office. They come in handy and colorful.
Choose the best desk and chair
Considering your available space, the desk and chair you choose for your home office should accommodate.
The desk should be large enough to accommodate your desktop or laptop computer and yet give room for you to take notes when necessary.
Placing the desk by the corner can create enough space as you can do your paperwork on one side while your computer is on the other side.
Consider a standing desk and a desk that has wire channels as this can help get rid of tangled cables and encourage neatness.
The office chair should have matching color with other furniture in the office. It should also be very relaxed and supportive.
A swivel chair would be best as it can be adjusted to suit your desired height. It should also provide the needed support for the arm and back. Generally, it should be ergonomic.
Colorful walls can help you work more in your home office. Color adds a sort of energy that is motivating and improves mood.
Depending of your choice of color, you can go for calming colors like sea blue, botanical green etc. or you can opt for brighter shades like lime green, cherry or orange and lots more.
It is very important to keep things in your home office very professional if you will be expecting clients.
In that regard, the location of the home office should be somewhere that your visiting clients will not have to invade your homes privacy. The general home should be kept thoroughly clean at all times.
Also, there should be comfortable chairs, fascinating literature and adequate lighting to keep your clients comfortable while they visit and wait to be attended to.
Dedicate a phone for your home office
It is always good to separate personal from professional when it comes to a home office. You should therefore, ensure that you do not share phone between your business and office. Maintain a boundary between the two.
There are a wide range of risks involved in sharing a phone line between your business and office; firstly it is totally unprofessional and can disappoint your clients, secondly, there is a possibility that a child might answer a phone call meant for your office.
Bottom line
It can actually be a perk to work from home. However, your home office can truly be a perk or wreck depending on how you create the home office.
With a little creativity you can create a room; you can carve out an extra space for a home office. The ideas in this article will help in creating a stylish but comfortable home office of your taste.
Having a home office saves time and money as you get to reduce expenses on going to your office in a different location. It also enables you set your own schedules and in general, it is flexible.
The general success of the home office lies in your ability to separate your personal life from your professional life. That is where discipline is required.