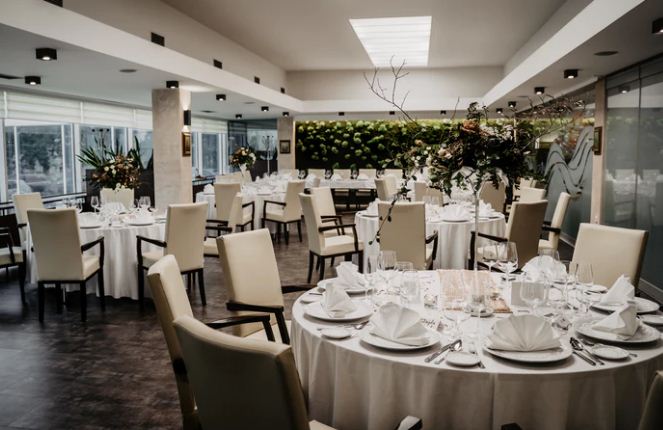 When it comes to putting together a wedding reception, there are several aspects that must be addressed in order to make the occasion bring smiles to the lips of all who attend.
Here are examples of a few key elements that must be addressed ahead of time.
First of all, adequate space is a must if people are going to enjoy the reception. Make sure there is room for people to mingle freely.
If the reception includes tables and chairs for people to sit and visit while eating, make sure the tables are placed so that they are within easy access to the kitchen for serving, or near the buffet for the guests to serve themselves.
The tables should be spaced so that no one has to scoot closer to the table in order to let someone walk through the tables in order to get to the dance floor or the food.
A good last-minute check before the guests begin to arrive is to pull each of the chairs away from the tables slightly and then make sure you can walk among the tables without having to turn sideways.
If you find ample room to walk, then chances are your guests will be perfectly comfortable.
Speaking of food, no celebration is complete without plenty of favorite dishes and lots of good liquids to wash it all down with.
The types of food offered will depend a great deal on the time of day and how the food will be served.
If the reception is taking place in the afternoon, you will want to go with foods that are lighter and make sure there are plenty of selections that can be eaten with the fingers.
For a reception that is more around the dinner hour, you may want to go with more hearty selections, with plenty of side dishes so people will feel as if they really did have a meal.
For drinks, let the wishes of the bride and groom be your guide. If they prefer that no alcoholic beverages be served, then do not have any on hand.
If they would like champagne, then make sure there is enough to go around. In any event, make sure there are at least three options for non-alcoholic drinks available to the guests. These could be something as simple as a soda, a diet soda, and lemonade.
Lighting should allow for an intimate setting, but that does not necessarily mean dark. No one should feel they need a flashlight to get around.
By all means use subdued lighting, especially if you want to go with candles on the tables. But make sure people can get to the food easily and also that there is plenty of well-lit floor space for dancing.
Music is another important aspect of the reception. Whether going with recorded music or having a live band, make sure the sound system used is crisp and clear.
Nothing can bring a good time down like hearing pops and creaks when music is playing or someone is trying to offer the new couple a toast.
Part of arranging a reception is making sure there are plenty of people to help set up the reception hall, and also plenty of help on hand to clean up once the reception is over.
The rule of thumb is to leave the area in better shape than you found it. So make sure everything is put away properly, that all utensils are washed and that the floor is spotless before you leave.
Planning a reception is a lot of hard work. But once you see the happy smiles on the faces of the guests, all the hard work will be well worth every second.