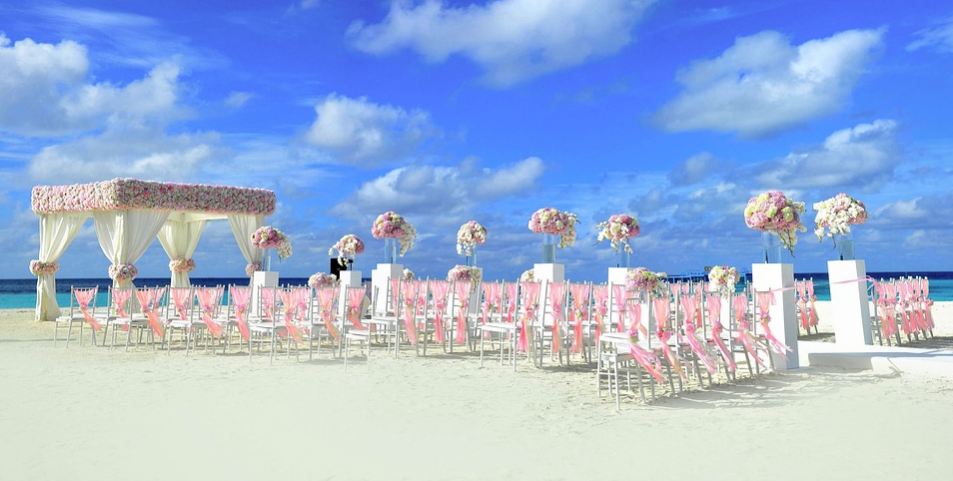 One of the great things about holding your wedding during the winter months is that you have the chance to decorate in ways that probably would not work at other times of the year.
Here are a few ideas to help you plan out your winter wedding decorations for every area from the chapel to the reception area.
Floral Arrangements
Whether you are holding a home wedding or being married in a house of worship, floral arrangements can add a great deal of atmosphere to just about any setting.
With the winter months come to the chances to go with arrangements that play on a theme of silver and white.
If you are going for this type of sophisticated look, consider arrangements that include silver dollar eucalyptus and dusty miller along with such blooming flowers as white roses, football mums, lilies, and white tulips.
The touches of silver mixed in with the white blooms will make a striking statement and easily lend themselves to the cool sophisticated look you are cultivating.
If you want to include touches of greenery in your wedding decorations, you can go with any evergreens that are found in abundance in your area.
If the chapel area has windows that are recessed, you may choose to fill those sections with a bed of cedar or short needle pine that is peppered with baby's breath.
White pillar candle
To finish off the look, include a white pillar candle. The soft light from the candles will add a nice intimate touch to the proceedings.
Color Design
If you want to go with more of nature's colors, consider working in sprigs of red berries into your scheme as well, for a small hint of color.
The red would work very well with a hint of green and provide a great background for the crisp white lines of the roses and mums.
Moving on to the reception area, continue to use the elements that were used for the location of the ceremony.
The cedar used in the windows can now be used as a foundation for the centerpieces on the guest tables.
Top the evergreen off with pillar candles or even a single taper with a white ribbon tied around a crystal base and woven into the evergreen. Again, hints of red from sprigs of wild berries will add visual interest.
In many parts of the country, it is traditional to have a small memento located at each place setting in the reception area.
Simple Ornaments
If you are holding the wedding near the Christmas season, you may want to go with a simple ornament at each place setting.
Something simple like a small crystal angel or even a snowflake ornament would be in keeping with the snow and winter theme you would use for a more formal setting.
If the look is more casual, you may want to go with an ornament that is reminiscent of a child's toy, or even a Santa Claus ornament.
White Cake Design
When it comes to the cake, it is a safe bet that white will be the way you go. Give it winter flair by decorating the cake with snowflake patterns or small sugar sculptures.
As a cake topper, you could use a snow globe depicting a winter scene or perhaps go with male and female snow figures, representing the bride and groom.
A winter wedding can be a lot of fun. With a little imagination, you can make the event one that people will remember fondly for a long time.
.