Georgia State Facts and Brief Information...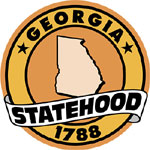 Georgia is the 23rd largest state in the country of the United States of America. It covers an area of about 169,639 square kilometers. The state lies in the southeastern part of the country. The state lies between north latitude 35 degrees and west longitude 85.36 degrees. The state has a coastline which exceeds a 100 miles.

The topography of the state includes 3 major mountain ranges known as the Blue Ridge Mountains, Ridge Mountains and Appalachian Mountains. The Blue Ridge Mountains are an extension of the Ridge Mountains which lies to the northeast and the Ridge and Appalachian Mountains rest in the northwest.

The heart of the state is taken up by the Piedmont Plateau and the southern ends are the coastal plains.

The state has several mountain ranges the highest peak is known as Brasstown Bald as it rests 1458 meters above sea level. It is a part of the Wolfpen Ridge Range. Other important mountains include Big Bald Mountain, Blood Mountain, Arabia Mountain and Rabun Bald.

The state also has numerous rivers which crisscross the landscape. Some of the important ones are the Savannah River, Altamaha River, Suwannee River, Chattahoochee River, etc. The Chattahoochee is the longest river in the state as it flows for 702 kilometers.