Iowa State Facts and Brief Information...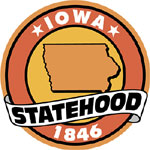 Iowa is the 26th largest state in the country of the United States of America. It covers an area of 145746 square kilometers. The country lies between north latitude 43.30 degrees and west longitude 96.31 degrees. The state is located in the northeast section of the country.

The state is bordered by two rivers the Mississippi and the Missouri on the east and west respectively. The dominant terrain is low and gently sloped with rolling plains cut across by many rivers.

However the northeastern area of the state is elevated with a few hills and rocky terrain. The rivers in the east drain into the Mississippi and the ones to the west drain into the Missouri. The climate in the state is largely continental with frequenting northwest winds. Summers are hot and winters are chilly. Thunderstorms and droughts are also pretty common.

The state is 310 miles in length and 200 miles in width. This span of land has the highest peak known as the Hawkeye Point which is 1670 feet above sea level. The lowest point in the state rests on the Mississippi river which is 480 feet above sea level.

Lakes seen in the state are Saint Lake, Five Island, Clear Lake, Storm Lake, Saylorville Lake and Red Rock off North and South of Des Moines respectively, other lake is Rathbun Lake in the south of the state.

The main rivers watering the state are Des Moines, Cedar, Mississippi and the Missouri rivers. The Red Rock Lake is the largest and most important lake in the state.