Kentucky State Facts and Brief Information...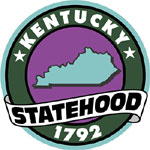 Kentucky is the 37th largest state in the country of the United States of America. It covers an area of 104,656 square kilometers of which 102,269 square kilometers is land and 2,387 square kilometers is water. The country sits on the central eastern part of the country. It lies between north latitude 39.9 degrees and west longitude 89.34 degrees. The state is 140 miles wide and 380 miles long.

The State slopes downward from the southeast to the west. The southeastern edge holds the highest point named Black Mountain which resets at 1,263 meters above sea level. The valleys and ridges near the mountains are taken up by dense forests.

The western part of the state is taken up the plains which are flanked by the broken plateau which resembles small escarpments. Lakes found in Kentucky are Cove Run Lake, Grayson Lake, Yalesville Lake, Taylorsville lake, Rough River Lake, Nolin River Lake, Gree River lake, Fishtrap Lake, Lake Cumberland, Barren River, Malone, Barkley and Lake Kentucky.

The south and west are full of rocky hills and underground streams which form the Mammoth Caves. Northwestern Kentucky is taken up by rolling hills. The western region is very well watered as the 3 major rivers, Tennessee, Mississippi and Ohio, run through there. The northern boundary of the state is lined by the Ohio River. Flowing southwest it eventually drains into the Mississippi. The Sandy River and Tug Fork, its tributary form another border.