Louisiana State Facts and Brief Information...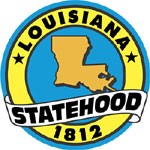 Louisiana is the 31st largest state in the country of the United States of America. It covers an area of 135659 square kilometers of which 111898 square kilometers is land and 23761 square kilometers is water. The state sits at the southeastern coast of the country. It is geographically located between north latitude 33 degrees and west longitude 94 degrees. The state is about 130 miles wide and 380 miles long. The state shares a coastline with the Gulf of Mexico in the south.

Most of the state is pretty low lying and even the highest point is a mere 535 feet above sea level. It is known as Driskill Mountain. The lowest point however rests 8 feet below the sea level prevalent in New Orleans.

The landscape can be divided into 3 parts known as the: Mississippi alluvial plain, East gulf coastal plain and West gulf coastal plain. The alluvial plain runs along the Mississippi river from north to south. It is full of hollows and ridges. Lakes found in the state are Cross Lake, Lake Claborne, Lake Bistineau, Turkey Cr. Lake, Black Lake, Catahoula Lake, Saline Lake, White lake, Larto Lake, Cocodrie, Anacoco, Lake Maurepas, Salvador, Mourepas, Grand Lake and more.

The east gulf coastal plain refers to the plains to the east of the Mississippi River whereas the west gulf coastal plains lay on the western banks of the river. The major rivers include the Mississippi, Red and Sabine Rivers.