Massachusetts State Facts and Brief Information...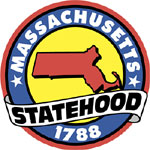 Massachusetts is the 7th smallest state in the country of the United States of America. It covers an area of about 27336 square kilometers. The state sits towards the northeastern end of the country and lies between north latitude 42.53 degrees and west longitude 73.30 degrees. The state is 50 miles wide and 190 miles long.

The state shares a coastline with the Atlantic Ocean to the east. The highest point in the state is known as Mount Greylock. It lies at a height of 3487 feet above sea level. The lowest point in the state however rests at mean sea level where the state meets the Ocean.

The Taconic Mountains are a small range which lies on the western extreme of the state. The shore with the Atlantic Ocean is characterized by the coastal lowlands which stretch inland. Then comes the eastern New England Uplands which contain gradually riding land towards the west.

The area connecting the state to its neighbor is known as the Connecticut Lowlands. It is watered by the Connecticut River which makes the soil rich and fertile. The western New England Uplands is characterized by steep hills which come in from Vermont. The Berkshire valley lies to the west of the uplands. The major rivers in the state are Connecticut River, Charles River and Hoosic River.