Michigan State Facts and Brief Information...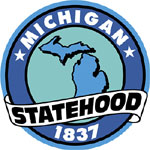 Michigan is the 15th largest state in the country of the United States of America. It covers an area of about 213096 square kilometers. The state lies towards the northwestern edge of the country. It is about 240 miles wide and 490 miles long. It lies between north latitude 48.15 degrees and west longitude 90.31 degrees.

The state is unique because it has two separate peninsulas going into the Great Lakes of America. The top half of the peninsula is bordered by Lake Superior in the north and Lakes Michigan and Huron in the south. The lowers peninsula is bordered by Lake Michigan on the west and Lakes Huron and Erie on the east. The state has about 100,000 square kilometers of water of which 99,909 square kilometers is taken up by the Great Lakes itself.
The highest point in the state is known as Mount Arvon as it rests 1979 feet above sea level. The lowest point in the state is 572 feet below sea level at a point where Lake Michigan coincides with Lake Erie.

The land can be split into two zones known as the Great Lakes Plain and Superior Uplands. The plains take up most of the Lower Peninsula whereas the uplands are located in the Upper Peninsula. The great lakes comprise lakes Michigan, Huron, Superior, Erie and St. Clair.