Missouri State Facts and Brief Information...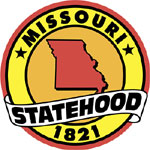 Missouri is the 22nd largest state in the country of the United States of America. It covers an area of 170304 square kilometers. It lies at the heart of the country and is completely landlocked on all sides. The state falls between north latitude 35 degrees and west longitude 95.42 degrees. The state is 240 miles wide and 300 miles long.
The highest natural peak in the state is known as Taum Sauk Mountain as it lies 1772 feet above the sea level. The lowest point in the state is on the St. Francis River which lies 230 feet above sea level. The mean elevation of the state measures in at 800 feet above sea level.

The major rivers running across the state are the Mississippi, Missouri, Current, St. Francis and the Osage rivers. The main lakes of the state are the Ozarks, Table Rock, Wappapello and Clearwater.
The northern half of the stats is covered by the low lying till plains. The area is well watered as many rivers and streams crisscross the area.
The western part of the state is taken up by the Osage Plains. The area is low lying with a few scattered hills here and there. The Ozark Plateau in the east and central area takes up the most space with the Mississippi alluvial plain to the south.