Nebraska State Facts and Brief Information...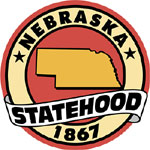 Nebraska is the 16th largest state in the country of the United States of America. The state covers an area of about 200345 square kilometers. It lies in northern Central America. The state lies between north latitude 43 degrees and west longitude 104 degrees. The state is 210 miles wide and 430 miles long. It is a completely landlocked state at the heart of the country.

The highest point in the state is known as Panorama point as it rests 5424 feet above sea level. The lowest natural point in the state lies at 840 feet above sea level on the Missouri River. The mean elevation of the state measure in at 2600 feet.

The major rivers watering the state are the Niobrara, Missouri, Republican and Platte rivers. The main lakes are Harlan County, Lewis and Clark and C. W. McConaughty Lakes.

Most of the state is dominated by the plains that run across the land. The eastern low lying till plains gradually rise towards the northwestern and central areas to become the Great Plains. The Till Plains are dissected by many river and streams and have fertile soil. The northern are of the Till Plains are a bit hilly and are known as the Loess Hills.