New Mexico State Facts and Brief Information...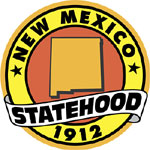 New Mexico is the 5th largest state in the country of the United States of America. It covers an area of 314915 square kilometers. The state sits on the southern borders of the country. It lies between north latitude 37 degrees and west longitude 109 degrees. The state is 343 miles wide and 370 miles long. It is almost like a square.

The highest natural point in the state is known as Wheeler Peak as it lies 13161 feet above the sea level. The lowest point rests at 2842 feet above the sea level on the Red Bluff Reservoir. The mean elevation of the state reads 5700 feet above sea level.

The major rivers of the nation are the Pecos and Rio Grande. Rio Grande is the longest river in the state. The major lakes are known as Conchas, Navajo and Elephant Butte Reservoirs.

The eastern part of the state is mostly covered by the Great Plains. The plains are high in the north and gradually fall towards the south as they reach the Pecos River. The rivers erode and create major canyons in the plateaus. The central region holds the Rocky Mountains and south holds the basin and range region.