Ohio State Facts and Brief Information...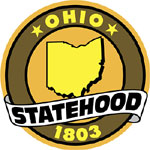 Ohio is a state in the Midwestern United States. Since Ohio joins the Northeast to the Midwest, much payload and business movement passes through its outskirts along its overall created expressways. To the north, Lake Erie gives Ohio 312 miles (502 km) of coastline, which considers various freight ports.

Ohio's southern fringe is characterized by the Ohio River (with the outskirt being at the 1793 low-water stamp on the north side of the waterway), and a great part of the northern fringe around Cleveland is characterized by Lake Erie. Other lakes are Mosquito Cr. Lake, Berlin Lake, Charles Mill Lake, Lake Mokawk, Leesville Lake, Clendening Lake, Lapport Lake, Piedmont Lake, Senecaville Lake, Buckeye Lake, Deer Creek Lake, Caesar Cr. Lake and Paint Creek Lake. Most of these lakes are very ideal for fishing destination.

Ohio's neighbors are Pennsylvania to the east, Michigan to the northwest, Ontario Canada, to the north, Indiana to the west, Kentucky on the south, and West Virginia on the southeast.

Much of Ohio gimmicks glaciated fields, with an astoundingly level zone in the northwest being known as the Great Black Swamp. This glaciated area in the northwest and focal state is flanked to the east and southeast first by a cinch known as the glaciated Allegheny Plateau, and afterward by an alternate sash known as the non-glaciated Allegheny Plateau. A large portion of Ohio is of low easing, yet the non-glaciated Allegheny Plateau gimmicks rough slopes and timberlands.