Virginia State Facts and Brief Information...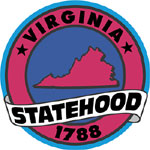 Virginia is officially the known as the Commonwealth of Virginia, is a U.S. state located in the South Atlantic region of the United States. Virginia is nicknamed the "Old Dominion" due to its status as a former dominion of the English Crown, and "Mother of Presidents" due to the most U.S. presidents having been born there.

The geography and climate of the Commonwealth are shaped by the Blue Ridge Mountains and the Chesapeake Bay, which provide habitat for much of its flora and fauna. The capital of the Commonwealth is Richmond; Virginia Beach is the most populous city, and Fairfax County is the most populous political subdivision. The Commonwealth's estimated population as of 2013 is over 8.2 million.

Allegheny Mountains, Shenandoah Mountains, Massanutten and Appalachian Moutains occupy most of the area at the North East of Virginia. The Lakes found in the State are Lake Anna, Smith Mountain Lake, Leesville Lake, Lake Gaston, Lake Cheadin and South Holston Lake (a Reservoir) located in South of Abingdon at the border with Tennessee.

Virginia has a total area of 42,774.2 square miles, including 3,180.13 square miles of water, making it the 35th-largest state by area. Virginia is bordered by Maryland and Washington, D.C. to the north and east; by the Atlantic Ocean to the east; by North Carolina and Tennessee to the south; by Kentucky to the west; and by West Virginia to the north and west. Virginia's boundary with Maryland and Washington, D.C. extends to the low-water mark of the south shore of the Potomac River.