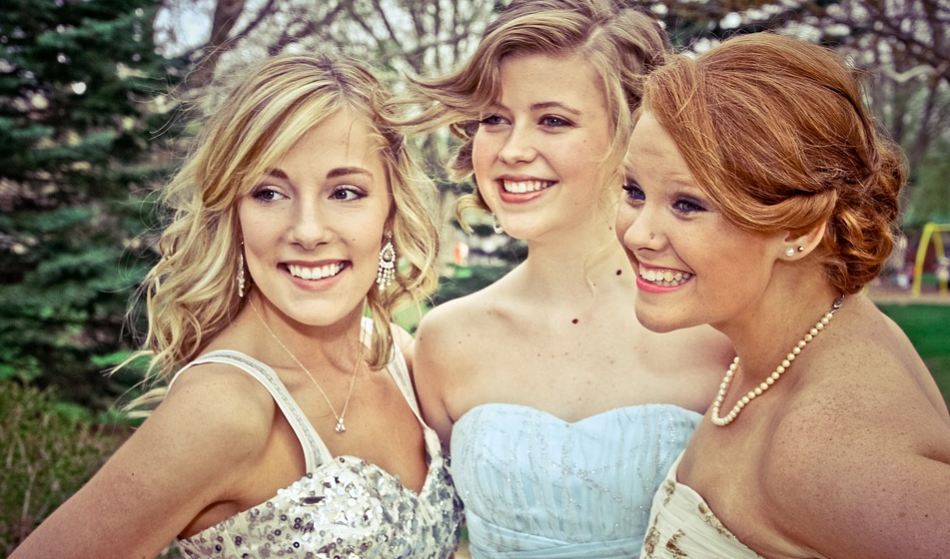 Prom is a magical, once-in-a-lifetime event for any teenage girl. It is a time to dress like a celebrity, be treated like royalty, and dance like there is no tomorrow.
With all of the importance attached to prom, it is essential that you look your best on the big night.
You will want to capture prom night memories in your mind forever with stunning pictures and a beautiful prom dress.
Still, finding that glamorous prom dress is only half the battle. Its equally important to have a beautiful body to slide into your dress.
To make sure you look as beautiful as your dress on prom night, follow the beauty timeline below. Then, check out the list of last-minute fix-ups for any prom night emergencies that may arise.
One Month Before Prom:
Begin softening and moisturizing your skin. Exfoliating gradually will result in soft, glowing skin by prom night. You should rub an exfoliating scrub into your skin twice a week for the entire month before prom. Apply the scrub in the shower, but be sure to turn the water off to allow for complete absorption before rinsing.
Treat anybody acne you may have. Strapless prom dresses definitely require blemish-free skin for the right look. Because pimples can take days to form and weeks to clear, this is the perfect time to begin treating your skin. You should begin washing your body with salicylic acid cleanser each day to remove oil. Then, use an alpha-hydroxy scrub to clean off any dead skin cells that can clog pores. Finally, apply salicylic acid cream directly to any pimples for spot treatment.
v Begin a whitening regimen for a clean, bright smile. While most whitening programs take only two weeks, beginning one month before will allow you to complete a second treatment, if necessary. Plus, a great prom dress really benefits from a bright smile to match. You should wear whitening strips on your top and bottom teeth for at least thirty minutes each day. Be careful to keep the strips off your gums to avoid irritation.
Two Weeks Before Prom:
Schedule a facial at a salon, or give yourself a facial. The facial will deep-clean your skin but may leave your face temporarily blotchy, so be sure to complete the facial no less than two weeks before prom night. If you are doing the facial yourself, apply a mask with salicylic acid to clean skin. Leave the mask on for five minutes, and then rinse your face with warm water. You may want to apply a moisturizer after the mask to soothe your skin.
One Week Before Prom:
Apply a repairing mask to your hair. Hair often requires as much damage control as skin, but a repairing mask will leave it looking soft and silky. To apply the mask, rub a generous amount of deep conditioner into your hair after shampooing. Look for a conditioner that has an extra moisturizing ingredient, like avocado. Leave the conditioner on your hair for three minutes, and then rinse it out. If your hair is very dry, wrap it in aluminum foil after applying the mask and blow-dry it for five minutes. The extra heat will allow for deeper penetration.
Begin using a self-tanner on your skin. The best self-tanners require a little bit of time for a natural glow, so it is important to begin early. Before applying the tanner, exfoliate your skin to avoid streaks. Rub the tanner all over your body in a circular motion, taking care to apply it very lightly to your ankles, elbows, and the backs of your knees. Wash your hands well to avoid staining your clothes and repeat the process three days later.
Shape and define your eyebrows. You should do this now to avoid any redness or irritation on prom night. If you have never plucked your brows, you may want to have them waxed professionally to establish a flattering shape. If you are an expert, define your natural brow by plucking only the hairs above the bridge of your nose and below your browline. For ease in plucking, do your eyebrow grooming right after you get out of the shower.
The Day of Prom:
Give your legs a close shave. If you plan on showing any skin in your prom dress, you will definitely want a smooth look. Body hair can grow quickly, so it is important to shave on the day of prom. To get fuzz-free results, use a razor that vibrates to exfoliate dead skin cells while removing hair. Also, be sure to use shaving cream rather than soap to moisturize your legs.
Slather a bit of shimmery lotion on your collarbone and shoulders. If you are wearing a short prom dress, you may want to apply some shimmer to your shins, as well. The lotion will give you glowing, luminous skin on prom night. For extra glamour, try using a scented lotion to add some alluring fragrance to your ensemble.
Last-Minute Beauty Tips:
Strapless prom dresses are sexy and beautiful, but they tend to show off tan lines. To cover any lines you may have on your shoulders, apply a cream-to-powder foundation to the un-tanned skin. Allow the foundation to dry for five minutes, and then apply a loose powder to set the color.
Last-minute blemishes are unfortunately common. If a pimple emerges on your big night, don't try to pop it. Instead, hold an ice cube on it for a few minutes to cool the swelling, and then apply a medicated concealer. Be sure to pat a little pressed powder on the concealer to set it.
Up-dos look fantastic, but they have a tendency to fall after several hours. If you're afraid your prom hair style might fall down before the end of the night, be sure to finger-comb a bit of texturing lotion through your wet hair before blow-drying. Once you style your hair, spritz a layer of hairspray all over to keep your tresses in place.
The above ideas should keep you looking beautiful in your prom dress. For more tips about prom dresses and prom beauty, check out Pretty For Prom.
.