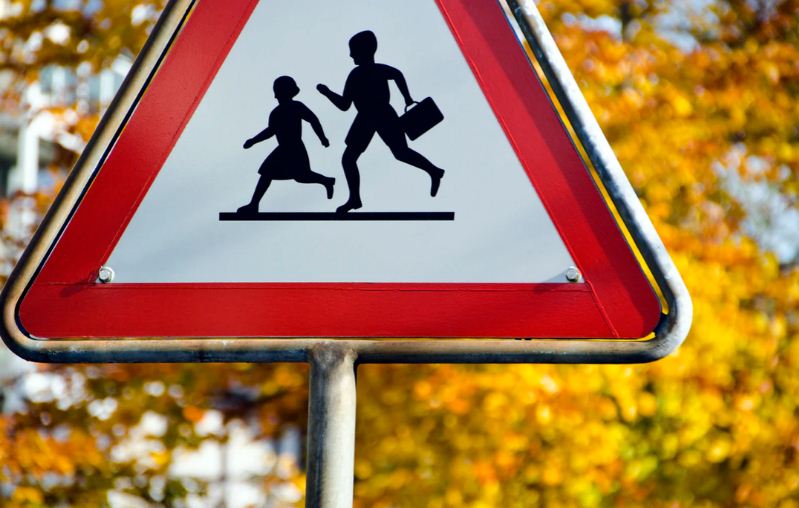 A journey to school and back home is often lined with many dangers. Accidents can occur while the children are in the school or traveling from the school back to their homes.
It is of paramount importance to educate the children about safety rules and tips. This can help prevent any untoward incidents from occurring.
It is always safe to go to school in a group.
The group can be formed by your friends or by children going to the same school from a residential colony. In this case, it is important to note that you should not leave anyone from the group alone.
It is safe to walk only on the pedestrian path and look in both directions while crossing a road.
If you face any difficulties while crossing do not hesitate to take the help of a policeman. It is important to stick to main roads and avoid back alleys or short cuts.
However, if you are cycling to school then avoid busy main roads and use only the by lanes. As a rule, always ride on the right side of the road and obey all traffic signals.
Get down from the bike and pull it across an intersection. Avoid taking doubles and always wear a helmet while riding. It is necessary to check your bike's condition especially if you are using it after a long break.
School buses are undoubtedly safer and more secure than other modes of transport. While traveling by bus the most important thing to be kept in mind is to wait at a safe distance for the bus to arrive.
Always wait for the bus to completely stop before climbing up or getting down from the bus. Use the railing present near the steps for climbing into the bus.
Do not stick your head or your hand out from the bus window.
All children must beware of the friendly-looking strangers and should not accompany them under any circumstance.
Most often they lure children away on the pretext of an emergency; hence you should always notify your teacher or the school principal if you are stuck in a similar situation.
Do not accept any material items like food or toys from them as they may not be safe.
911 is a number that all parents must tell their children about. It is a toll-free number and you can dial it from anywhere at any time if you are in danger.
As a precautionary measure do not advertise if you are living alone or have the home keys. For added safety parents can also notify the nearby police station if you are leaving your child home alone.
In the school do not push or shove other students on the playground or while getting down from the bus as you can hurt yourself as well as others. In case of a fire, leave the school building through the fire exit immediately and report to the concerned teacher.
Always carry some money so that you can pull yourself out from a difficult situation. It is always helpful to remember a few landmarks near your house to ensure a safe return back home.