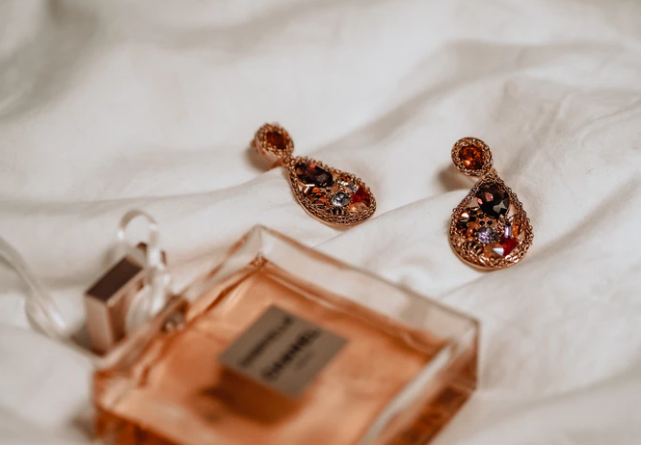 Fashion jewelry are jewelries made of less valuable materials such as glass, beads, plastics, simulated gemstones or diamonds, semi-precious stones, wood, clay, seashells, and base metals, thus, are usually called faux jewelry. 
Their value is much lesser than real jewelries and usually much flashier and much more eye-catching. 
Unlike real jewelries that are currently bought for investment, for collectible or for keepsake purposes, this type of jewelries are mostly used to accessorize or complete an outfit. 
Fashion jewelry is a good way to promote a fashion statement or express individuality. But even with the minimalist look, a person can always use the help of fashion jewelry to liven up an ensemble.

Fashion jewelry was popularized by the fashion icon Coco Chanel during her time. Celebrities and other personalities started using them, making fashion jewelry a fashion category itself. 
These days, fashion jewelries have increased in value though still not as much as real or fine jewelries. Its market for the vintage edition has increased giving fashion jewelry a collectible status.

The Industry of Wholesale Fashion Jewelry

The supporter of fashion is not anymore limited for the wealthy people.  Fashion has inspired everyone to look good not only for other people but mainly for themselves. 
This paved the way for the fashion industry to take a look at and consider their needs, resources and lifestyle as well, thus, the emergence of manufacturers that specializes in bulk production of clothing, shoes, bags, and accessories for wholesale selling.

Wholesale fashion jewelry can be a profitable venture. Distributors can supply performance arts studios and artists, fashion shows, boutiques, and department stores. 
But this kind of business is also open to part-time professionals like students, housewives and others who may be interested.
There are a number of wholesale suppliers that are willing to train would-be fashion jewelry entrepreneurs in using the products, starting the trade, and marketing and managing this kind of venture. 
As they say, a believer is the best endorser. Those who want to try this kind of business can visit a local distributor in their area or browse through the numerous internet resources.

Designers for Wholesale Fashion Jewelry

Manufacturers of wholesale fashion jewelries also employ designers to continuously create designs that suit the ever-changing need of the consumer. Their designers are also competitive and artistic like any in the field of fashion. 
These wholesale fashion jewelry designers possess the same trait, skills, and knowledge necessary to a fashion designer.

Some of the important traits and skills for them are as follows:

1.    Creative, open-minded, and flexible.
2.    Self-motivated and can easily draw inspiration from anything presented to him.
3.    Has knowledge in the techniques and tools of the art from design to production.
4.    Has an insatiable interest in the various materials currently being used and materials that have even the slightest potential for use.
5.    An eye for fashion and style.
6.    Can work in a fast-paced environment.
7.    Ability to work with a team and an assigned goal.
8.    Sensitivity to the need of the manufacturer, supplier, and the end-product users.