Colorado State Facts and Brief Information...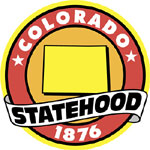 Colorado is the 8th largest state in the country of the United States of America. IT covers an area of 269,601 square kilometers. It is a landlocked state which lies a little to the southwest of the country.

The topography of the state is very diverse as it showcases high alpine peaks, deserts with sand dunes, valleys, rivers, lakes and forests. The entire state of Colorado lies on a height that is above 1,000 meters above sea level.

It has many mountains of which Mount Elbert is the highest, measuring in at 4,401 meters. It is the highest peak in the Rocky and Colorado Mountains.The lowest point in the state is also at a height of 1,011 meters above sea level. Others are Medicine Bow Mountains west of Fort Collins, La Gorita, Sangre de Cristo and San Juan Mountains in the southern part of the state.

A little less than half of the state is covered in plains. The Colorado Eastern Plains lie on the eastern side of the Rocky Mountains. The area has small patches of Buttes, canyons and deciduous forests. The continental divide is an area in the state that rests along the Rocky Mountains.

The southern parts of the state are taken up by the San Luis Valley which holds the water of the longest river known as the Rio Grande. The valley sits between the San Juan Mountains and the Sangre De Cristo Mountains.