Connecticut State Facts and Brief Information...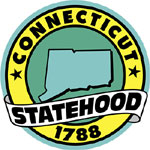 Connecticut is the 3rd smallest state in the country of the United States of America. It covers an area of 14,357 square kilometers. The state lies between north latitude 42.3 degrees and west longitude 73.44 degrees. The southern slope of Mount Frissell is the highest peak in the state as it rests at 2380 feet above sea level. The lowest point however lies at mean sea level.

The major rivers of the State are the Thames, Connecticut and Housatonic Rivers.
The northwestern area of the state is the highest as it slowly loses the elevation to the south. The Eastern part of the state is taken up by the highlands which are drained by many rivers.
The Connecticut Valley Lowland sits at the heart of the state and is watered by small rivers. The Eastern New England Upland if full of small and narrow river valleys which are banked by heavy forests on both sides.

Last but not the least are the Coastal Lowlands which feature low lying plains and sandy beaches. The state has a hot and humid climate during summers with light snowfall in winters. The state also experiences a tornado each year. Lake Candlewood is the largest lake in the state and the country.