Connecticut State Facts and Brief Information...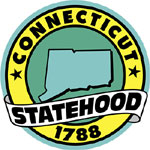 Connecticut is situated on the east coast of the USA and is the gateway to New England, with its charming towns, quaint coastal villages, antique stores and placid country landscapes. Hartford, the capital boasts the oldest public art museum in the country as well as the Nook Farm Literary heritage, this is where Mark Twain wrote his greatest work in 1884.
Connecticut is the third smallest state in the USA, with a rich literary and cultural past. New Haven boasts the renowned Yale University, the Peabody Museum of Natural History and the Center for British Art.

Mystic Seaport is a coastal town where one can visit the maritime museum with wooden ship exhibits and art and crafts collections. At the Mystic Aquarium one can marvel at the dolphins, sharks and seals, while in the Olde Mistick Village one can enjoy shopping and dining as well as a pleasant stroll through the old time atmosphere.
Stonington Borough is a charming old fishing village, with a great number of antique shops and a Lighthouse museum.
The climate in Connecticut offers hot summers and cold winters, when temperatures can fall under the zero mark.