New York State Facts and Brief Information...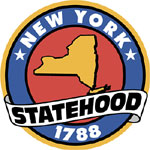 New York is considered to be the 3rd most populated state in the United States and it is located in the Northeastern and Mid-Atlantic regions of the country. On the east it is bordered by Vermont, Connecticut and Massachusetts; and on its south New York is bordered by Pennsylvania and New Jersey.
New York also shares an international border with Ontario (Canada) on its west. This state is commonly known as the New York State so that people will not confuse it with New York City.
The New York City is the largest city in this state and it is also the most highly populated city in the country.

The state has an area of 141,300 square kilometers and in terms of size, New York is considered to be the 27th largest state in the country. While the state is known for its urban atmosphere, a major part of it includes lakes, mountains, rivers, forests and farms.
The largest state part is the Adirondack Park and it is located in New York. Apart from the various state parts, the New York State also has two main forest preserves.
Most of the people living in the state belong to Italian, Africa-American, German and Irish ethnicities.