New York State Facts and Brief Information...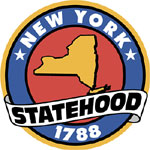 New York is the 27th largest state in the country of the United States of America. It covers an area of 141299 square kilometers. The state lies along the north eastern shores of the country. The state sits between north latitude 45 degrees and west longitude 79 degrees. The state is 283 miles wide and 330 miles long.

The state borders Lakes Erie and Ontario in the north. The Atlantic shoreline lies to the southern borders of the state.

The highest natural peak in the area is known as Mount Marcy as it sits at a height of 5344 feet above sea level. The lowest point in the state rests at the mean sea level on the Atlantic Ocean. The mean elevation of the state measures in at 1000 feet above sea level.

The major rivers that water the area are the Mohawk, Hudson and Genesee Rivers. The lakes in the state are Ontario, Erie, George and Champlain.
The northern part of the state is the highest and most rugged owing to the presence of the Adirondack Mountains. It is located between Lakes Ontario and Champlain. The low lands are made by the St. Lawrence and Champlain which rest near the shore of Lake Ontario.