Delaware State Facts and Brief Information...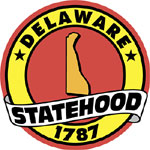 Delaware is the 2nd smallest state in the country of the United States of America. It lies on the Eastern Seaboard. It covers an area of 6,447 square kilometers. The state lies between north latitude 39.5 degrees and west longitude 75.47 degrees.

The state is bordered by the Atlantic Ocean on the eastern side. Most of the State is low lying as the highest point sits at a mere height of 450 meters above sea level and is called Ebright Azimuth. The lowest point however lies at mean sea level on the Atlantic Ocean.

The northern edges of Delaware are covered by the Piedmont Plateau and are the only areas which are a bit high. The coastal plains dominate much of the states terrain. The shores also include a tidal creeks, marshes and bays.

Sandy beaches make up the front whereas the back areas are covered with 30,000 acres of swamplands. The Delmarva Peninsula also rests along the Delaware River. It is 180 miles long and 71 miles wide.

The Delaware is the most significant river in the state whereas the others are Muderkill, Mispillion, St. Jones and Nantocke. The Delaware is by far the longest river in the state as it runs for 330 miles.