Florida State Facts and Brief Information...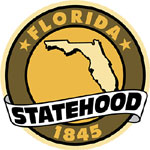 Florida is the 20th largest state in the country of the United States of America. It covers an area of about 181,035 square kilometers. It is located on the peninsula which sits between the Straits of Florida, Gulf of Mexico and Atlantic Ocean.

Florida is one of the largest states in term of water area as water covers 30,634 square kilometers. Most of the state is very low lying due to the dominant coastal plains. The highest point in the state is known as Britton Hill as it rests at 105 meters above sea level.

Much of the country features coastal plains and rolling hills which rise no more than 100 meters above sea level. The terrain is dominated by the Karst Limestone plateau which sits on top of the Florida Platform. Most of the water in state is provided by the underwater streams and lakes.

The St. Johns River is the longest river in the state as it flows for more than 300 miles. Other important rivers include the Saint Mary's River, Flint River, Chattahoochee River and Perdido River. No part of the state is far from the ocean so the entire state enjoys coastal climate. The area is also frequented by the trade winds.