Hawaii State Facts and Brief Information...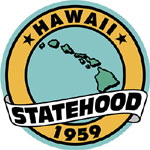 Hawaii is the 8th smallest state in the country of the United States of America. It covers an area of 28311 square kilometers. The state lies between north latitude 23 degrees and west longitude 162 degrees.

It is the only state of USA which is not connected to the North American Continent; it is also the southernmost state in the country. It is the world longest chain of islands as it goes on for 1,523 miles. The entire state is surrounded by the Pacific Ocean.

Mauna Kea is the highest point in the state as it rests 13796 feet above sea level. The lowest point of the state however rests at the mean sea level on the Pacific Ocean. The Anahulu and Wailuku are the major rivers of the state. Salt Lake is the largest lake in the state.

8 inhabited islands are Nihau (smallest island), Lanai, Kahoolawe, Kauai, Oahu, Molokai, Maui and Hawaii (the largest island in the U.S).

The main island of Hawaii came into existence due to the five volcanic peaks which still remain on the island. Two of them remain active till date and are known as the Kohala and Hualalai. The north and south coastlines are characterized by steep rising cliffs and high waterfalls draining into the ocean below. The state enjoys a cool coastal climate with high levels of humidity.