Idaho State Facts and Brief Information...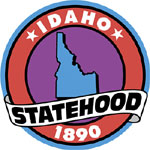 Idaho is the 13th largest state in the country of the United States of America. It covers an area of about 219,887 square kilometers. Idaho is situated in the northwestern part of the USA. It is one of the most rocky and rugged terrain states in the country.

The highest peak is known as Borah Peak which rests 12,662 feet above sea level. Even the lowest point at Snake River is 710 feet above sea level.
The State can be divided into 3 ecological regions: The Columbian Plateau, Rocky Mountains and Basin and Range Regions. The Rocky Mountains lie along the state border and it also holds the deepest gorge of the nation known as Hells Canyon.

The area is characterized by fast flowing rivers, gorges and canyons. The Columbian Plateau runs across the state with the Snake River by its side. The Snake River Plain also lies on this plateau. The basin and range region is located in the southeastern part of the state. The area is full of grasslands and deep valleys.

The major rivers in the state are the Snake, Salmon, Oreille and Clearwater Rivers. The Salmon River is the longest in the state. The most important lake in the state is known as Lake Cascade.