Idaho State Facts and Brief Information...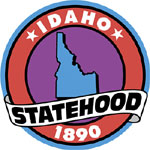 The state of Idaho is situated to the west of the Rocky Mountains, with an expanse of evergreen forests and a multitude of lakes. Boise, the state's capital permeates a lively festive mood and boasts many museums and cultural centers as well as the World Center or Birds of Prey.
Idaho also boasts a rich historical and cultural background, going from the American Indians to the pioneers, miners, loggers, railroad builders and farmers who finally settled in the region.

In the southwest of Idaho one can explore the Bruneau Dunes State Park, with the tallest sand dunes in America, or in the northwest venture in the Craters of the Moon National Monument, an immense field of lava, with a labyrinth of tunnels and caves.

The Hell's Canyon National Recreational Area is North America's deepest gorge, through which the rivers Snake, Salmon and Rapid flow. Here one may experience some of the best whitewater rafting and kayaking in the country. The nearby Clearwater National Forest offers the best big-gaming hunting sites in the USA at the Chamberlain Basin and Selway-Bitterroot Wilderness.
Idaho is also an excellent place for outdoor fans, boasting over 16 ski sites, with 320 km of groomed Nordic trails and more than 11,500 km of snowmobile trails, lakes, fishing streams and national forests.
Idaho's climate differs according to the areas. In the north there is abundant snow in the winter, while in the south the winters are milder with warm to hot summers.