Illinois State Facts and Brief Information...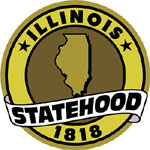 Illinois is the 25th largest state in the country of the United States of America. It covers an area of 149,998 square kilometers. It lies in the Midwestern area of the country. The state sits between 42.30 degrees north latitude and 91.30 degrees west longitude.

The highest point of elevation in the state is known as Charles Mound which rests 1,235 feet above sea level. The lowest point however rest at 279 feet above sea level on the Mississippi River.

The Mississippi is the longest river in the state as it runs along the entire border on the west. The other important rivers in the state are Illinois River, Ohio River and the Wabash River. Lake Michigan is the largest lake in the state. Rend Lake is another important lake in the country. Other Lakes are Goose Lake, Lake Chautauqua, Clinton Lake, Carlyle Lake, Lake Egypt and Kinkard Lake.

The state is spilt into 3 ecological zones known as the Shawnee Hills, Central Plains and the Gulf Coastal Plain. The Shawnee Hills lie below the central plains and stretch further south. The area is full of rivers, woodlands and valleys characterized by high elevation. The central plains cover almost the entire state. The rolling plains were formed ages ago. The Gulf Coastal Plains exist in the southernmost tip of the state.