Indiana State Facts and Brief Information...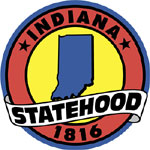 Indiana is the 39 largest State in the country of the United States of America. It covers an area of about 91,646 square kilometers. The state lies in the north central part of the country. It is bordered by the Ohio River in the south.
The highest point in the country lies in Wayne country as it sits 389 meters above sea level. The lowest point lies on the Ohio River. Lake Michigan is the largest body of water in the state and is shared by other states as well.

The Wabash River is the longest in the state as it flows for 764 kilometers. It runs across the state in a northeast to southwest orientation. Central Indiana is watered by the White River which is also a tributary of the Wabash. Some other important tributaries of the Wabash are: Eel River, Salomonie River, Mississinewa River, Vermilion River and Embarrass River. All these flow across the central plains of the state.

The Kankakee and Iroquois rivers flow in a west to east direction. Two rivers in the north, St. Mary's and St. Josephs for the Maumee River which runs towards the northeast. Lakes are Cedar, Wawasse, Salamonie, Shafer, Freeman, Brookville, Cagles Mill Lake, Lake Lemon, Monroe and Patoka Lake. The Glacial Lake Maumee forms a few lakes like the Wawasee, Tippecanoe, etc.