Indiana State Facts and Brief Information...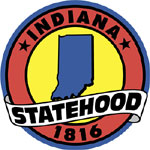 Indiana is in eastern USA bordering Lake Michigan to the north. The state's landscape is composed of deep valleys, foothills, vast farmlands and cornfields that stretch out until the horizon.
Here, amongst the peaceful rolling plains of the north, the friendly Amish communities live in close communities having preserved their customs and beliefs. These people still move around in horse carts and produce their own food, selling handicraft, quilts and other similar objects.
Indianapolis, the state's capital rises from the plains, an important center for commerce, industry and culture it also offers plenty of tourist attractions such as the Indianapolis zoo and the Eiteljorg Museum of American Indians and Western Art.

The Indiana Dunes National Lakeshore Park on the shores of the Lake Michigan is a magnificent site where naturally formed dunes rise from the ground. The Wolf Park northwest from Indianapolis shelters many of these animals that roam freely in the park. Another spectacular site to visit are the cave formations, rivers and underground waterfalls at the Squire Boone Caverns in southern Indiana.
For those in search of thrilling action the Indianapolis 500 is an event held in May on Memorial Weekend. This race is the biggest single-day sporting event in the world. The speedway also welcomes the United States Grand Prix in June and the NASCAR Brickyard 400 in August.
Summers in Indiana are hot and winters generally quite mild with occasional cold periods.