Kansas State Facts and Brief Information...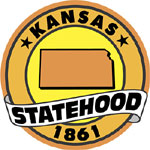 Kansas is right in the center of the USA and the land is mostly dedicated to farming with beef cattle, buffalo and grain crops. The farmlands stretch out in an expanse of fields of crop and pasture. This state produces much of the country's needs in food goods.
Kansas was also an important point of transit when the settlers heading on the Oregon and Santa Fe trails passed with their wagons heading to the west. During the past new towns were built to meet the growing needs of the communities and battles with the Native Americans erupted. That is why there are many monuments dedicated to the Old West throughout Kansas, including many reservoirs and rivers for different outdoor activities.
Kansas is also the state where a dozen different aircraft companies build aircrafts. Wichita is the largest city in Kansas, and it is here that most of the aircraft companies are situated, as well as the Museums on the River District with its botanical gardens and the Old Cow town Museum.
Topeka is Kansas's capital, which offers many interesting sites to visit, with its Zoological Park, Museum of History and State Capitol. The restored cattle town of Dodge City is a step back into the past; here one may visit the Boot Hill Museum, which has recreated the Front Street and Boot Hill Cemetery, as they were 1870s.
Kansas has a continental climate with hot summers and cold winters; there are also frequent storms, tornadoes and blizzards in the plains.