Kansas State Facts and Brief Information...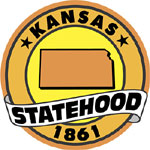 Kansas is the 15th largest state in the country of the United States of America. It covers an area of 213,100 square kilometers of which 211,754 square kilometers is land and 1,346 square kilometers is water. The state lies between north latitude 40 degrees and west longitude 102.1 degrees. The state is 400 miles long and the width stands at 210 miles.

The State is located right at the center of the country and is completely landlocked. The highest point on the state is known as Mount Sunflower as it rests 4,039 feet above sea level. The lowest point however lies on the Verdigris River which is 679 feet above sea level.

The state is dominated by the Great Plains. The land gradually rises from the east to west. The high plains in the west go on to meet the foothills of the Rocky Mountains. Smoky Hills and Red Hills are found in the Great Plains in Eastern part of the State.

There are quite a bit number of lake like Tuffle Cr. Lake, Milford Lake, Perry Lake and Clinton Lake found in the North East of the State, while Big Hill Lake, Elk City Lake, Fall River Lake, El Dorado Lake and Toronto Lake are found in the South East.

The Arkansas and Kansas Rivers run along the width of the country and are the most important ones as well. Other rivers include the Republican, Missouri and Smoke Hill. The climate of the state touches extremes with snow and blizzards during winters making it unbearably cold and high temperatures with tornadoes during summers. There are occasional floods as well.