Maine State Facts and Brief Information...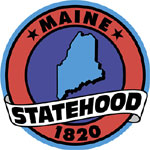 Maine is the 38th largest state in the United States of America. It covers an area of 94,321 square kilometers. The state lies between north latitude 47.28 degrees and west longitude 71.7 degrees. The state is located on the north eastern corner region of the country.

The state is 190 miles wide and 320 miles long. Maine also shares a coastline with the Atlantic Ocean to the east. Mount Katahdin is the highest natural peak in the state as it sits 1,606 meters above sea level. The lowest point however rests at mean sea level on the Atlantic Ocean.

The state can be split up into 3 zones: The White Mountains, Eastern New England uplands and Coastal Lowlands.

The White Mountains run in the northwestern part of the state and are a continuation of the New Hampshire White Mountains.

The Eastern New England Uplands area is covered with a plateau made of super fertile soil and streams.

The coastal lowlands begin near the ocean and stretch inland for about 40 miles and are a stretch of low lying plains and sandy beaches. The St. John River is the longest in the state. There are about a total of 5,000 rivers which run there.