Maine State Facts and Brief Information...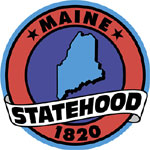 Situated on the east coast of the USA the state of Maine has preserved it natural landscape over the centuries. The sprawling forests and crystal lakes take up nearly 90 percent of the landscape, and the coastline runs for more than 8000 km from Kittery to Lubec, spotted with picturesque fishing villages, ports and sandy coves.
Maine's landscape is the consequence of the ice age, forming the characteristic inlets, bays and harbors and up to 2000 rocky islands just off the shore. This is where fish is plentiful as are the lighthouses and the quaint coastal villages, with their typical New England charm. Lobster is the prime dish of the state the lobster pots can be seen dotting the inlets.

Portland is Maine's biggest city with its Old Port Exchange where one can go for food and handicraft, all made in Maine. The Casco Bay Islands are just opposite the city and ferries run to and fro the islands.
For nature lovers a trip just off the Coast of Bar Harbor is the ideal site to go whale watching. The Acadia National Park is a haven of 19,277 hectares of woodlands, mountains, lakes and ponds.
Some quaint and historical towns are to be found in Camden, Kennebunk, Ogunquit or Camden, where the marinas look over picturesque waterfronts.
Summers are mild and sunny from May to October, although the winters are cold with a lot of snowfall, temperatures often going below zero.