Maryland State Facts and Brief Information...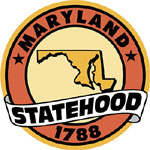 Maryland is the 42nd largest state in the country of the United States of America. It covers an area of 32,133 square kilometers. The state lies between north latitude 39.43 degrees and west longitude 79.33 degrees. The state sits on the eastern side of the country.

The state is approximately 90 miles wide and 250 miles long. The Chesapeake Bay borders the state to the south. The highest point in the state is known as the Backbone Mountain as it rests 3360 feet above sea level. The lowest point in the state however lies at mean sea level on the Atlantic Ocean.

The state can be split into two zones known as the East Shore and the West Shore as they lie on either side of the Chesapeake Bay. Other ecological regions are known as the Atlantic Coastal Plains, Piedmont Plateau, Blue Ridge Mountains, Appalachian Ridge and Valley and the Appalachian Plateau.

The coastal plains cover the whole of the east shore and a bit of the west shore. The low lying Piedmont cuts though the center of the state as it runs diagonally from the northeast. The Blue Ridge Mountains run towards the west of the Piedmont. The Appalachian Ridge and Valley is an expanse of land which rises steeply and also has gorges. The Appalachian Plateau runs towards the west of the Blue Ridge Mountains.