Minnesota State Facts and Brief Information...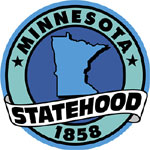 Minnesota is the 11th largest state in the country of the United States of America. It covers an area of 253266 square kilometers. The state lies in the northern edge of the country. It lies between north latitude 49.23 degrees and west longitude 97.12 degrees.

The state is nearly 407 miles wide and 360 miles long. The northeast borders are covered by Lake Superior. The highest natural peak in the state is known as Eagle Mountain as it rests 2301 feet above sea level. The lowest point however lies 602 feet above sea level at Lake Superior. The land is quite high with a mean elevation of 1200 feet above sea level.

Most of the state's area is taken up by rolling plains which were formed during the ice age when glaciers moved along the surface. The northern end of the state is very rocky and rugged with the highest elevation in the state.

The areas near Lake Superior are remote and very rocky. The northeast border of the state looks like an arrowhead and has been aptly named as arrowhead country. The plains are very fertile except a few patches of sand and stone. The southeastern end is covered in river valleys and fast flowing streams. The main river is the Mississippi River.