Nevada State Facts and Brief Information...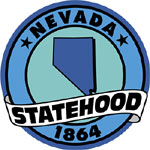 Nevada is the 7th largest state in the country of the United States of America. It covers an area of 286351 square kilometers. It lies in the western part of the country and is completely landlocked on all sides. The state lies between north latitude 42 degrees and west longitude 120 degrees. The state is nearly 500 miles long and 320 miles wide.

The highest natural peak in the state is known as Boundary Peak as it lies 13140 feet above sea level. The lowest point in the state lies to the south on the Colorado River.

The major rivers watering the state are the Columbia, Colorado, Truckee and Humbboldt rivers. The major lakes in the area are Mead, Pyramid, Mojave, Walker and Tahoe.

The diverse landscape is covered with deserts, forests, rocky terrain, snowcapped peaks and grassy valleys. The state falls almost entirely in the Great Basin Area.
The ecological regions are the Sierra Nevada, Columbia Plateau and Basin and Range Region. The Columbia Plateau lies to the northeastern corner. It is an area with a lava bedrock which has been eroded by rivers. The Sierra Nevada is mountain ranges that runs across the state and hold the glacial Lake Tahoe within its valleys.