New Jersey State Facts and Brief Information...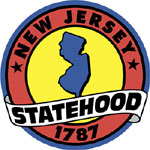 New Jersey is the 4th smallest state in the country of the United States of America. It covers an area of 22588 square kilometers. It lies on the eastern part of the country. The state measures 70 miles wide and 150 miles long. The state shares a shoreline with the Atlantic Ocean in the south.

The highest point in the state is known as High Point as it lies 1803 feet above the sea level. The lowest natural point in the state lies at mean sea level on the Atlantic Ocean. The mean elevation of the state measures in at 250 feet above sea level.

The major rivers watering the state are the Delaware and Hudson rivers. The major lake present in the state is called Lake Hopatcong.

The ecological regions of the state are the coastal plains, Piedmont Plateau, Appalachian ridge and valley and the New England Upland. The coastal plains are near the shore shared with the Atlantic Ocean. They are white sandy beaches which stretch inland.
The Piedmont sits on the northeastern side of the plains. The Ridge and Valley region of the Appalachians lay in the northwestern corner of the state whereas the New England Upland lies on the west of the Piedmont.