North Carolina State Facts and Brief Information...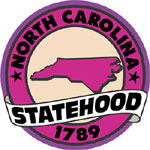 Situated in the southeastern part of the U.S.A is the state of North Carolina. The capital of this state is Raleigh and the state has about one hundred counties. On its north, North Carolina is bordered by Virginia; on its west it is bordered by Tennessee; and on its south it is bordered by Georgia and South Carolina.
The population of this state is diverse and there are eight Native American tribes in North Carolina. There are three geographic regions in this state: the Appalachian Mountains and foothills, the Piedmont region and the coastal plain. The two largest landlocked sounds in the country are also found in this state.
According to the 2008 census, North Carolina is expected to have about 9,222,414 people and the population has seen an increase of about 14% in the last eight years or so.
About fifty-one of the population in this state consists of females. Tourism plays an important part for North Carolina's economy and it is considered to be the 6th most popular as well as visited state in the United States.
Some of the tourist destinations in North Carolina consist of beaches, wineries, amusement parks, sports venues and golf. The tourism industry in this state hires about one hundred and ninety thousand people approximately.