North Carolina State Facts and Brief Information...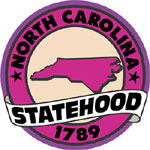 North Carolina is a state in the Southeastern United States. The state outskirts South Carolina and Georgia to the south, Tennessee to the west, Virginia to the north, and the Atlantic Ocean to the east. North Carolina is known as the Tar Heel State and the Old North State.

North Carolina is circumscribed by South Carolina on the south, Georgia on the southwest, Tennessee on the west, Virginia on the north, and the Atlantic Ocean on the east. North Carolina comprises of three principle geographic areas: the Atlantic Coastal Plain; and the Appalachian Mountains and foothills.

The amazing eastern segment of the state contains the Outer Banks, a string of sandy, slender islands which structure an obstruction between the Atlantic Ocean and two inland conduits or "sounds": Albemarle Sound in the north and Pamlico Sound in the south. They are the two biggest landlocked sounds in the United States.

The beachfront plain moves to the Piedmont area along the Atlantic Seaboard fall line, a line which denote the height at which waterfalls first show up on streams and waterways. The Piedmont locale of focal North Carolina is the state's most urbanized and thickly populated segment.

The real waterways of the Piedmont, for example, the Yadkin and Catawba, have a tendency to be quick streaming, and shallow. The western segment of the state is a piece of the Appalachian Mountain range.