Oklahoma State Facts and Brief Information...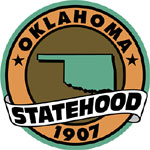 Oklahoma is a state found in the South Central United States.

Oklahoma is the twentieth biggest state in the United States, covering a territory of 69,898 square miles, with 68,667 square miles of area and 1,281 square miles of water. It is one of six states on the Frontier Strip, and lies halfway in the Great Plains close to the geological focal point of the 48 touching states. It is limited on the east by Arkansas and Missouri, on the north by Kansas, on the northwest by Colorado, on the far west by New Mexico, and on the south and close west by Texas.

There are too many lakes in Oklahoma which are Kow Lake, Keystone Lake, Great Salt Plains Lake, Tenkiller Ferry Lake (a reservoir) in the Eastern part, Robert S Kerr Lake, Eufaula Lake, Lake thunderbird, Conton Lake, Lake Chikasha, Lake Texoma, Broken Bow lake and Waurika Lake (also a reservoir) in the extreme South of the State.
The western edge of the Oklahoma is lopsided with its Texas fringe. Oklahoma is between the Great Plains and the Ozark Plateau in the Gulf of Mexico watershed, by and large inclining from the high fields of its western limit to the low wetlands of its southeastern limit.

It's most noteworthy and least focuses take after this pattern, with its most noteworthy crest, Black Mesa, at 4,973 feet above ocean level, arranged close to its far northwest corner in the Oklahoma Panhandle. The state's most minimal point is on the Little River close to its far southeastern limit close to the town of Idabel, OK, which dips to 289 feet above ocean level.