Pennsylvania State Facts and Brief Information...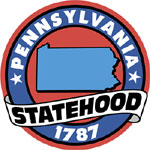 Pennsylvania or authoritatively the Commonwealth of Pennsylvania in the US is found in the Northeastern and Mid-Atlantic districts of the United States, and the Great Lakes locale. The state outskirts Delaware to the southeast, Maryland to the south, West Virginia to the southwest, Ohio to the west, Lake Erie and Ontario, Canada to the northwest, New York to the north and New Jersey to the east. The Appalachian Mountains gone through the center of the state.

Pennsylvania is 170 miles north to south and 283 miles east to west. Of an aggregate 46,055 square miles, 44,817 square miles are land, 490 square miles are inland waters, and 749 square miles are waters in Lake Erie. It is the 33rd biggest state in the United States. Pennsylvania has 51 miles of coastline along Lake Erie and 57 miles of shoreline along the Delaware Estuary.

Pennsylvania additionally imparts a water fringe to the Canadian region of Ontario to the northwest crosswise over Lake Erie. Of the first Thirteen Colonies, Pennsylvania is the main express that does not outskirt the Atlantic Ocean. The state has 5 districts, to be specific the Allegheny Plateau, Ridge and Valley, Atlantic Coastal Plain, Piedmont, and the Erie Plain.