Rhode Island State Facts and Brief Information...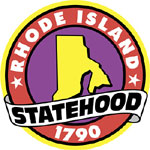 Rhode Island, officially the State of Rhode Island and Providence Plantations, is a state in the New England region of the United States. Rhode Island is the smallest in area, the eighth least populous, but the second most densely populated of the 50 US states (behind New Jersey). Rhode Island is bordered by Connecticut to the west and Massachusetts to the north and east, and it shares a water boundary with New York's Long Island to the southwest. It also has the longest official name of all the states.

Rhode Island covers an area of 1,214 square miles and is bordered on the north and east by Massachusetts, on the west by Connecticut, and on the south by Rhode Island Sound and the Atlantic Ocean. It shares a narrow maritime border with New York State between Block Island and Long Island. The mean elevation of the state is 200 feet. Although it is only 37 miles wide and 48 miles long, the state has a tidal shoreline on Narragansett Bay and the Atlantic Ocean 384 miles.

Nicknamed the Ocean State, Rhode Island has a number of oceanfront beaches. It is mostly flat with no real mountains, and the state's highest natural point is Jerimoth Hill, 812 feet above sea level. Narragansett Bay is a major feature of the state's topography. Within the Bay, there are over 30 islands. The largest is Aquidneck Island, shared by the municipalities of Newport, Middletown, and Portsmouth. Block Island lies about 12 miles off the southern coast of the mainland and separates Block Island Sound and the Atlantic Ocean proper.