South Carolina State Facts and Brief Information...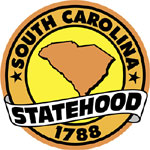 South Carolina is a state in the Southeastern United States. It is flanked to the north by North Carolina; to the south and west by Georgia, placed over the Savannah River; and to the east by the Atlantic Ocean. South Carolina is made out of five geographic ranges, or physiographic territories, whose limits generally parallel the Atlantic coastline.

In the southeast part of the state is the Atlantic Coastal Plain, which can be separated into the Outer and Inner Coastal Plains. From north to south the coast is partitioned into three different regions, the Grand Strand, the Santee River Delta, and the Sea Islands.

The Fall Line, which denote the cutoff of traversable waterways, runs along the limit of the Sandhills and the Piedmont, which has moving slopes and dirt soils. The state's coastline contains numerous salt bogs and estuaries, and regular ports, for example, Georgetown and Charleston.

An uncommon peculiarity of the waterfront plains is a substantial number of Carolina narrows, the sources of which are unverifiable. The bayous have a tendency to be oval, coating up in a northwest to southeast introduction. The landscape is level and the dirt is made altogether out of late silt, for example, sand, residue, and mud. Simply west of the seaside plain is the Sandhills locale. The Sandhills are remainders of seaside rises from a period when the area was depressed or the seas were higher.