South Dakota State Facts and Brief Information...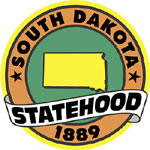 South Dakota, located in the Midwestern region of the United States, is named after the Lakota and Dakota Sioux Native American tribes.

The state is divided into two parts by the Missouri River, creating two geographically as well as socially-distinct halves, known as the "East River" as well as the "West River".

Withan elevation of 7,242 ft, the Harney Peak is the state's highest point, along with the coastline of Big Stone Lake is the lowest, with an elevation of 966 ft. South Dakota shares its borders in the north withNorth Dakota; in the south with Nebraska; in the east with Iowa and Minnesota; and in the west with Wyoming as well as Montana. The geographical center of the U.S. is 17 miles to the west of Castle Rock in Butte County. The North American continental pole of inaccessibility is located between Allen and Kyle, 1,024 mi from the nearest coastline.

The largest and longest river is the Missouri River in the state. Other major South Dakota's rivers are: the Cheyenne, the James, the Big Sioux, as well as the White Rivers. Eastern South Dakota has many natural lakes, mostly created by periods of glaciation.There are a few large reservoirs created by the Missouri River: the Lake Oahe, the Lake Sharpe, the Lake Francis Case, as well as the Lewis and Clark Lake.