Tennessee State Facts and Brief Information...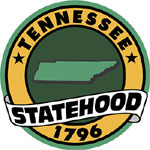 Tennessee is a. state located in the South-eastern United States. The Appalachian Mountains dominate the eastern part of the state, and the Mississippi River forms the state's western border. Tennessee's capital and second largest city is Nashville, which has a population of 601,222. Tennessee shares its borders with eight other states: with Kentucky and Virginia in the north; with North Carolina in the east; with Georgia, Mississippi and Alabama in the south; with Arkansas as well as Missouri situated near the Mississippi River in the west.

The state is divided into three parts by the Tennessee River. The Clingmans Dome is the highest point in the state is at 6,643 feet. The Clingmans Dome lies on the eastern border of Tennessee and is considered the highest point in the Appalachian Trail. It is the third highest peak in the US and lies to the east of the Mississippi River. The state is geographically, economically, culturally as well as legally divided into three Grand Divisions: the East Tennessee, the Middle Tennessee, and the West Tennessee.

Tennessee also features 6 principal physio-graphic regions: the Blue Ridge, the Cumberland Plateau, the Appalachian Ridge and Valley Region,the Nashville Basin, the Highland Rim, as well as the Gulf Coastal Plain. There are many caves in the state.