Texas State Facts and Brief Information...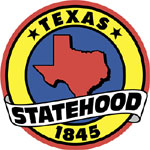 Texas is the second largest of the 50 states in the U.S. Geographically, it is located in the south-central region of the country, Texas shares its international borders with the Mexican states of Chihuahua, Nuevo León, Coahuila,and Tamaulipas in the south and also shares borders with the U.S. states of New Mexico in the west, with Oklahoma in the north, with Arkansas in the northeast, as well as Louisiana in the east. Texas covers an area of about 268,820 square miles.

The state's three borders are defined by rivers. A natural border is formed by The Rio Grande along the Mexican states in the south. The Red River also forms a natural border with the states of Oklahoma and Arkansas in the north. The Sabine River forms a natural border with Louisiana to the east.

With about 14 soil regions, 10 climatic regions, and about 11 distinct ecological regions, it is quite problematic to classify the regions which have differences in topography, soils, rainfall, and geology, along with the plant as well as animal communities. Texas is divided right from the southeast to its west into the following: the Gulf Coastal Plains, the Interior Lowlands, the Great Plains, and the Basin and Range Province.