Washington State Facts and Brief Information...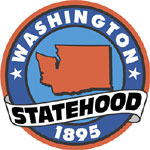 Washington is a state in the Pacific Northwest area of the United States placed north of Oregon, west of Idaho, and south of the Canadian territory of British Columbia on the shore of the Pacific Ocean. Washington is the north-western most condition of the touching United States.

To the east, Washington outskirts Idaho, limited for the most part by the meridian running north from the intersection of the Snake River and Clearwater River, with the exception of the southernmost area where the fringe takes after the Snake River. The western part of Washington touches the Pacific Ocean. Washington was a Union domain amid the American Civil War, despite the fact that it never really partook in the war.

The high piles of the Cascade Range run north-south, bisecting the state. From the Cascades westward, Western Washington has a basically marine west drift atmosphere, with mellow temperatures and wet winters, falls and springs, and moderately dry summers.

The Cascade Range contains a few volcanoes, which achieve heights essentially higher than whatever is left of the mountains. From the north to the south these volcanoes are Mount Baker, Glacier Peak, Mount Rainier, Mount St. Helens, and Mount Adams. Mount St. Helens is right now the main Washington fountain of liquid magma that is effectively ejecting; nonetheless, each one of them is viewed as dynamic volcanoes. Mount Rainier, the tallest mountain in the state, is 50 miles south of the city of Seattle, from which it is noticeably obvious.